Our Bodies, Ourselves: The Fascinating History of Lingerie
An Interview with Catherine Ormen - Part 1
No one knows French lingerie like Catherine Ormen. A graduate of the Ecole du Louvre and the Ecole du Patrimoine and former student of Studio Berçot (fashion design), Catherine Ormen is an acclaimed heritage conservator. She was responsible for the creation of the Fashion Museum of Marseilles before becoming the twentieth century fund manager at the Museum of Fashion and Textiles at the Decorative Arts Museum in Paris. Ormen later pursued a career as a freelance curator, expert and teacher while writing several books on the history of fashion.
Ms. Ormen was also the curator of our Lingerie Française Exhibition, a fascinating retrospective of 100 years of lingerie that has traveled to major cities around the world. We recently spoke with her about the social history of lingerie. This is the first of a two-part interview.
LF: You have suggested that lingerie reveals who we are on emotional and intimate level. Can you elaborate on that?
"There's a correlation between the lingerie we wear and the spirit or feeling we want to evoke."
CO:
One of the first things you do in the morning is get dressed. And usually you pick your lingerie based on what you're going to do that day. If you're going to do sports, you're not going to pick the same lingerie you would if you were going to have dinner with a lover. There's a correlation between the lingerie we wear and the spirit or feeling we want to evoke. We chose lingerie based on our moods as well as the shape of our bodies – how we want our bodies to feel and look. It reveals a lot about who we are and what we do in life.
LF: How do you think French and American women differ in this regard?
CO:
The stereotype of the American woman in the French mind is a woman who is generally overly-interested in her presentation: She tends to wear lots of makeup and have perfect hair. In France, we abandoned that over-coiffed look in the eighties. If we go to a gallery opening or a cocktail party, we might wear the same clothes we wore to work because we're afraid of appearing overdressed or like we're trying too hard. We don't want to be "too much."
I think American women tend to conform a bit more than us. For example, French women started wearing pants long before American women would dare. In some places, even in the early seventies, women weren't allowed in certain restaurants in America because they were wearing pants. So there's a certain conformity with American women: You have to have this purse, those shoes, that haircut. We're much more relaxed about that in France.
DO: Another difference is that French women consider lingerie a fashion accessory as well as a practical garment. French women will wear sexy lingerie under something simply for themselves, because it makes personally feel good.
CO:
Yes, this is very true.

DO: How has lingerie shaped women's perceptions of themselves over the decades?

CO:
After World War 2 and into the fifties, women's bodies were exacerbated and exaggerated. This was a product of the baby boom. There was no elastic back then and no Lycra. Clothes were extremely constraining and women's busts were always accentuated. They were the center piece. The waist was always in the center. Hips were pronounded. This was the "new look." And that look was present throughout the fifties and was reflected in French lingerie. There was underwire to push up, accentuate, and raise the bust. There were also special bra cuts to make breasts pointy. That was part of pret-a-porter, so it was for everyone. Everyone wanted this look: Pointy breasts, full hips, tiny waist.
But this look was exported to France from American cinema: It was all about glamor, but without really revealing too much. This – plus the influence of Dior - gave birth to the pin-up. That said, this was tyranny for women, with the added complexity of garters and nylons. There was no flexibility, no elastic. Everything was hyper constrained.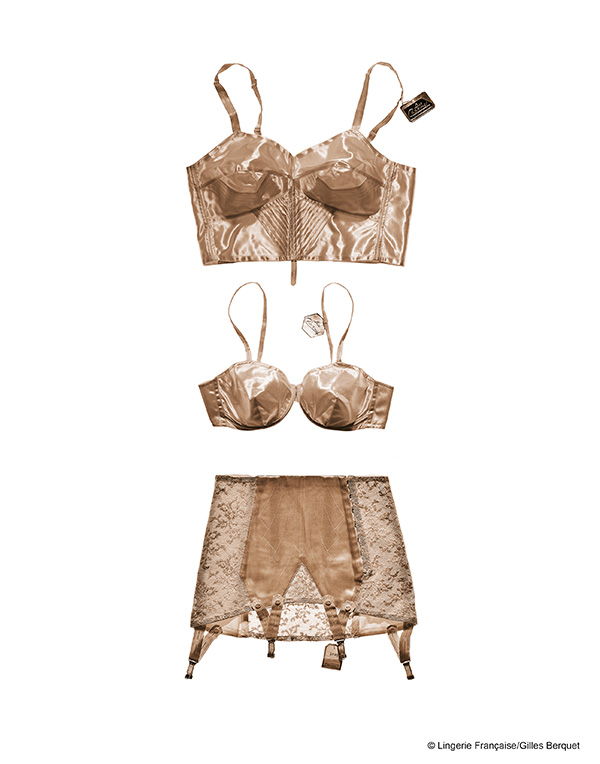 Basque without underwire in flesh-colored cotton satin, circa 1955-1960, Lise Charmel archives.Underwire bra in flesh-colored cotton satin, circa 1955-1960, Lise Charmel. Girdle in jacquard elastic tulle, reinforced with cotton satin, no stays, adjustable garters, circa 1949, Chantelle.Photograph by Gilles Berquet for the Lingerie Française Exhibition XIX-XXI.
DO: What changed all that?
CO:
The youth and counter-culture. The fifties were all about bourgeois beauty and evoking wealth. The 60s changed all that: Suddenly it wasn't wealth that counted, but youth. And lingerie had a role in all this. Women didn't accentuate their busts anymore because young women are flat-chested. So there was an entire youth culture that influenced women and lingerie. This was a total upheaval. That continued in the 70's, when women became more involved in athleticism and feminism. We didn't' need lingerie that was so structured.
So there was this logical evolution that created a lot of diversity: There was suddenly everyday lingerie for fun or for seduction. There was a multiplicity of collections, which responded to different types of women and different attitudes.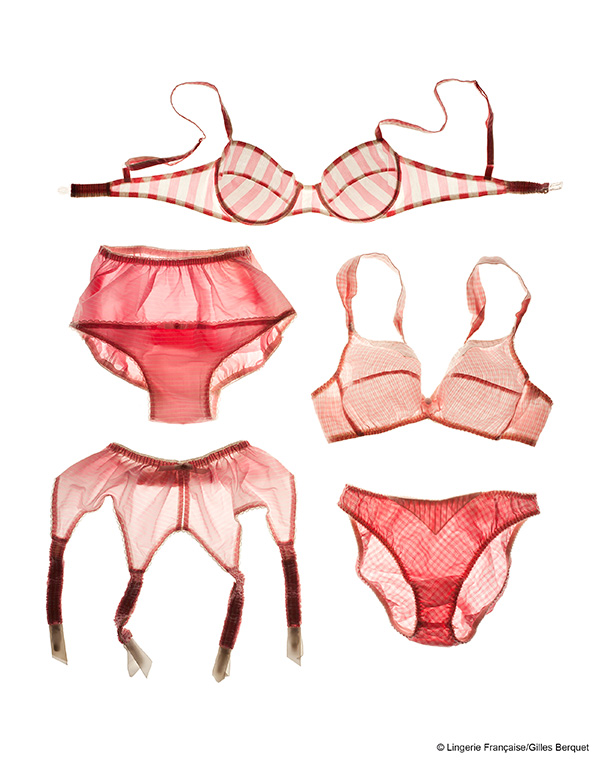 Underwire bra in pink and white striped cotteon, 1988-1989, Princesse tam.tam. Bouffant panties in pink and white striped nylon, early 1960, Empreinte. Underwire bra in pink and white checked cotton with adjustable straps, 1960s, Aubade. Garter belt in pink and white striped nylon, early 1960s, Empreinte. Panties n pink and white checked cotton with matching bra, 1960s, Aubade.


Lycra was one of the most revolutionary changes in lingerie. It had a huge impact on the evolution of the shape of women's bodies.
DO: The invention Lycra played a huge role in all this, is that correct?
CO:
Yes. It was one of the most revolutionary changes in lingerie. There hasn't been any hardcore research about this, but in my opinion Lycra had a huge impact on the evolution of the shape of women's bodies. I think it's also behind the rise in obesity. Before Lycra, women wore tight, unforgiving clothes that didn't conform to the body. The minute you gained 3 kilos, you couldn't wear your clothes anymore. So you had to be careful and restrict yourself. You were careful between each meal as well because you couldn't adjust your clothes. You couldn't have a beer and a snack without feeling it in your clothes.
DO: So tight, unforgiving lingerie was a weight loss method!
CO:
Yes! We've forgotten this. Today, we wear elastic leggings and elastic everything. Clothes get bigger and smaller with your body. And this would have a huge impact on the future of lingerie.
Click here for
part two
of our interview with Catherine Ormen.