Lace: a brief history of the sexiest textile on earth
Imagine lingerie without lace: Impossible. Lace, the world's most glamorous and refined textile, has always been driven by the fashion and innovations of the times, whether it adorned the decorative surface of a baron's 17th baron's collar or graced the cup of a 21st century bra. In fact, lace goes back millennia: ancient Egyptians wore ornamental mesh as far back as 2500 BC, the bible refers to "nets of checker work," and a piece of Coptic lace in the Cluny Museum dates back to the third century.
The history of lace is a fascinating study in the ingenuity and savoir-faire of artisans. It evolved out of embroidery and different types of needlework, and for centuries was done exclusively by hand. For many of these centuries, lace found its capital in Venice, Italy. As ships forged new trade routes in the 16th century, fabrics from the East found their way into this flourishing Italian capital. By cutting pieces of fabric and filling in open spaces with embroidery threads – and, later, relying solely on needle stitching -- Venetian artisans developed lacework that would evolve into the sophisticated patterns that prevail today, such as Point Venise and Venetian Point Lace. Eventually, artisans developed patterns with difference sizes and shapes between stitches using bobbin lace. Over time, an expansive variety of new, exquisite forms of lace began to emerge.
Revolutions, evolutions…


Making lace requires extraordinary precision, patience, and artistic savoir-faire. The advent of machine-made lace vastly accelerated its production through a complicated series of industrial innovations that started with British and French manufacturers in the 18th century. Warp lace frames – or warp machines – revolutionized the trade, but it still seemed impossible that a machine might weave different threads into fast meshings and diverse patterns without unraveling. Even when bobbinet machines came on the scene in the early 1800s, the manufacture of lace was still so coveted that anyone exporting a lace machine from England could be punished with death.
During this period, John Leavers created a machine that vastly increased the manufacturing speed of lace (the machine and type of lace are named in his honor), and
Joseph Marie Jacquard
invented the Jacquard motion to the Leavers machine, which further revolutionized the manufacture of lace.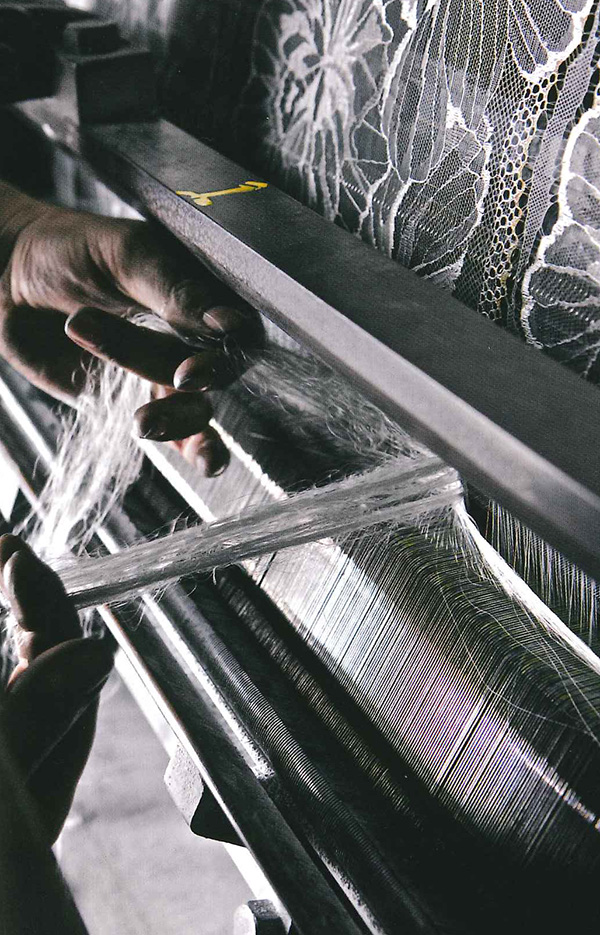 Hundreds of different types and pedigrees of lace now exist, including pedigrees of needle point lace, pillow lace, decorated nets, ecclesiastical lace, and bridal lace. Amidst the profusion of styles, French lace couture remains an economic and aesthetic benchmark for the world at large. "European couture lace provides a near-perfect metaphor for what's going on in the luxury market, where designers have been rethinking classic materials from mink to pearls," writes Christina Binkley in the Wall Street Journal.
In a world where machines dominate, lace ateliers are still filled with brilliant and creative individuals who draw, cut, and sew lace patterns by hand, mending and finessing the tiniest details thread by thread. These lace-makers carry on a centuries-old tradition while forging new trails for the future.
Photo by Philippe Schlienger. Simone Pérèle patrimony