Haute Lace
The Gorgeous Marriage of French Lace and Haute Couture
Featured above: Schiaparelli couture
After the success of the exhibitions Hubert de Givenchy, Cristóbal Balenciaga, Anne Valérie Hash and Iris van Herpen, the 
Museum of Lace and Fashion in Calais
, dedicated to hand-made and mechanical lace, presents the "Haute Dentelle" (Designer Lace) exhibition.
HAUTE COUTURE AND LACE. "Haute Dentelle" offers a unique insight into the contemporary uses by fashion designers of lace woven on Leavers looms. Implicitly, exhibition curator Sylvie Marot weaves a unique dialogue between lace houses and fashion houses.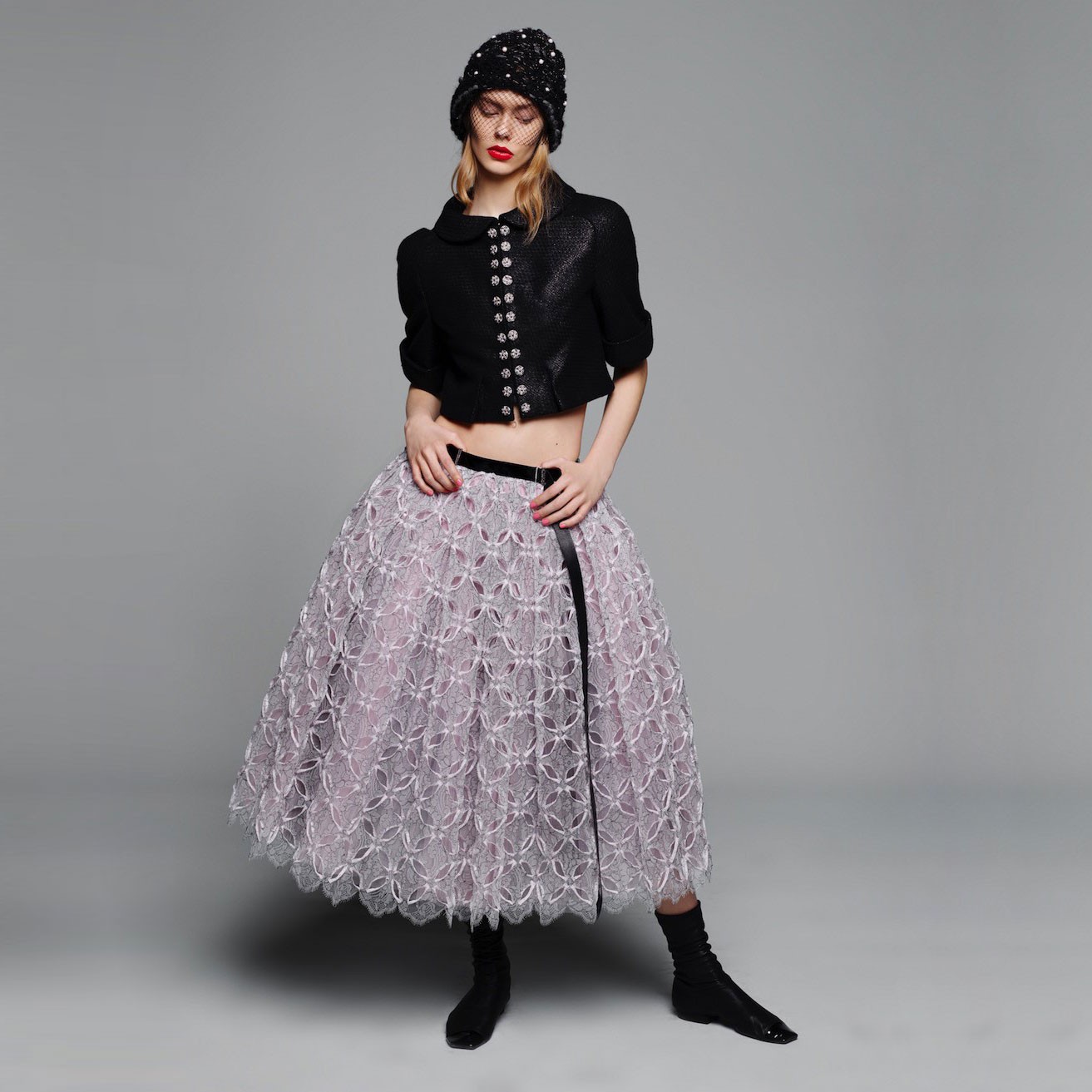 Karl Lagerfeld for Chanel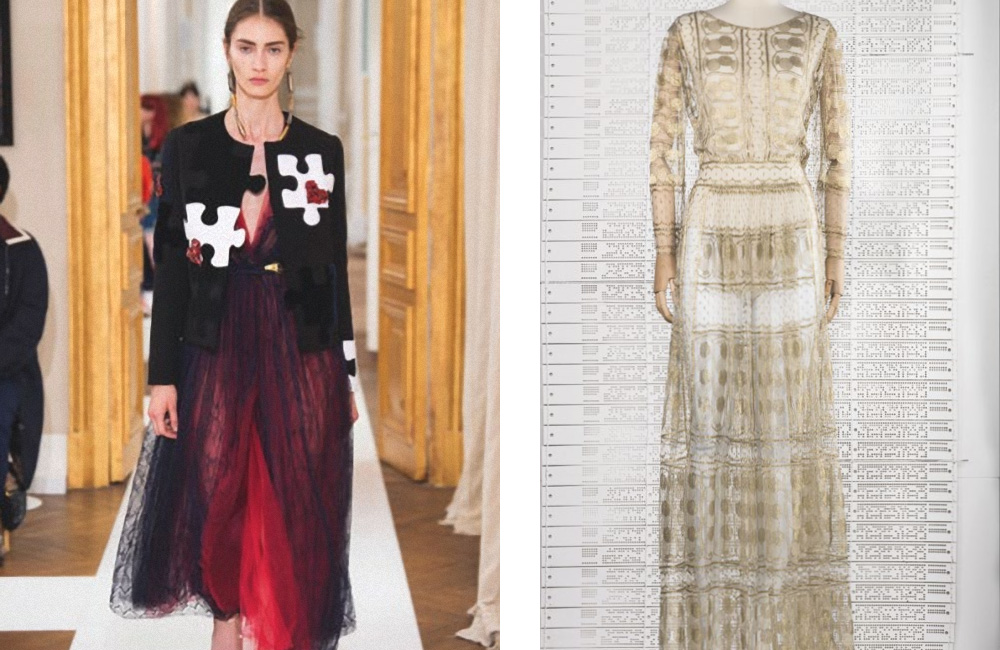 | | |
| --- | --- |
| Schiaperelli | Alberta Ferretti |
A MATERIAL OF GREAT CREATIVE POTENTIAL. First inspired by and then liberated from hand-made lace, mechanical laces have been marrying tradition with innovation for 200 years. Synonymous with delicacy, the apparent fragility of the lace is an illusion: its woven texture makes it unravelable. A textile of high technicity, the subject of never-ending design research among lace-makers, lace has never been so multi-faceted. In infinite shades, textures, finishing techniques and embroideries, it may be transparent or opaque, with floral or abstract patterns, light or three-dimensional... to the point of becoming magnificently unrecgonizable.
The Haute Dentelle exhibition was highly anticipated. It takes a snapshot look at the contemporary uses of lace in the two pinnacles of fashion that are haute couture and luxury prêt-à-porter. Fourteen fashion houses on the French 
and international scene have been selected for their relevance and diversity.

The presentation shows how couturiers make woven lace a subject worthy of consideration: which they overlay and mass together, which they cut and join together...Haute Dentelle highlights the metamorphoses embodied in these laces which are transformed into moving sculptures.

Also revealed are the present-day skills of the French lace manufacturers. More than ever before, the lace manufacturers are turning their heritage into a laboratory for research and a source of creation. Creativity is present at multiple levels, from design to finishing and including the weaving itself: motif, composition, dying and other finishes. Everything can form the basis of re-creation. Those over-used terms, tradition and innovation, take on their full meaning here.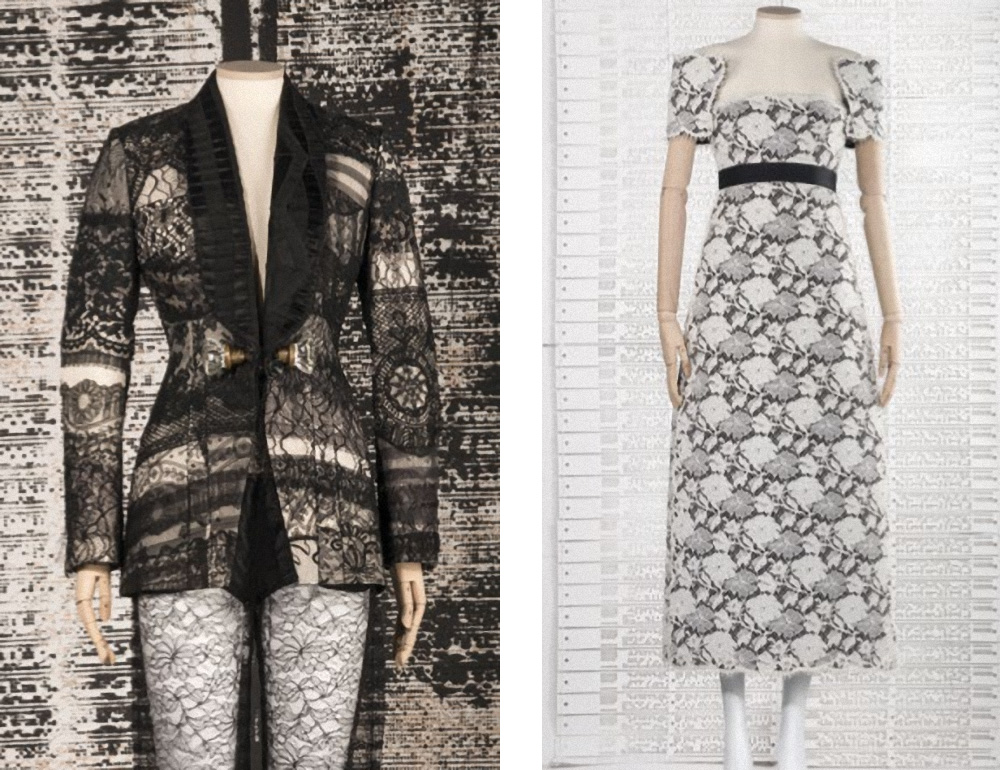 The Calais Museum of Lace and Fashion is one of the few museums in France to present regular fashion exhibitions. The success of previous exhibitions dedicated to the illustrious couturiers Cristóbal Balenciaga and Hubert de Givenchy, as well as the contemporary designers Iris van Herpen and Anne Valérie Hash, ranks the museum alongside other renowned European fashion institutions.  And it is through fashion that the public discovers lace as the museum pursues an ambitious policy of staging trail-blazing exhibitions, designed by scientific curators who specialize in fashion and who forge a link between the museum and the artistic and economic fields. 

EXHIBITION CURATION : Sylvie MAROT, independent curator. Her catalogue, Anne Valérie Hash. Décrayonner, taking the eponymous title of the exhibition staged at the Museum of Lace and Fashion in 2016, was awarded the 2017 Grand Prix for Fashion Books.