Barbara's Floral Rhapsody
Ice and Nomad flowers Inspire Fall 2016

Featured above: Alchimie in austral blue

Summer may be over, but nature still flourishes as the seasons change - and no one has captured this magical transformation better than Barbara Lingerie: Ice Flowers and Nomad Flowers are the hallmark of its lush Fall/Winter collection. The sparkling glitter effects and matt materials of Ice Flowers evoke the powdery wonderland of winter in nuanced shades of grey, violet, ivory, and blue. Warm and woody tones contrast this palate for a fully luminous and sensory seasonal experience. Meanwhile, Nomad Flowers have a folkloric beauty that is animated by a panache of bold colors: Vivid reds, deep blues and violets. These intense, concentrated colors conjure the profusion of Nordic flowers that burst into life as winter unfolds in northern latitudes.
Both floral rhapsodies are underscored by ornamental designs inspired by the East: Flowers are printed, embroidered, or embedded into the softest and highest quality European lace. The end result is a delicate, romantic and intoxicating collection that exalts the season's beauty.
Come behind the scenes as Barbara Lingerie's vibrant new Brazilian model sings the praises of its new collection (in English and French), then take at look at some of Barbara's beguiling beauties. It doesn't get lovelier than this.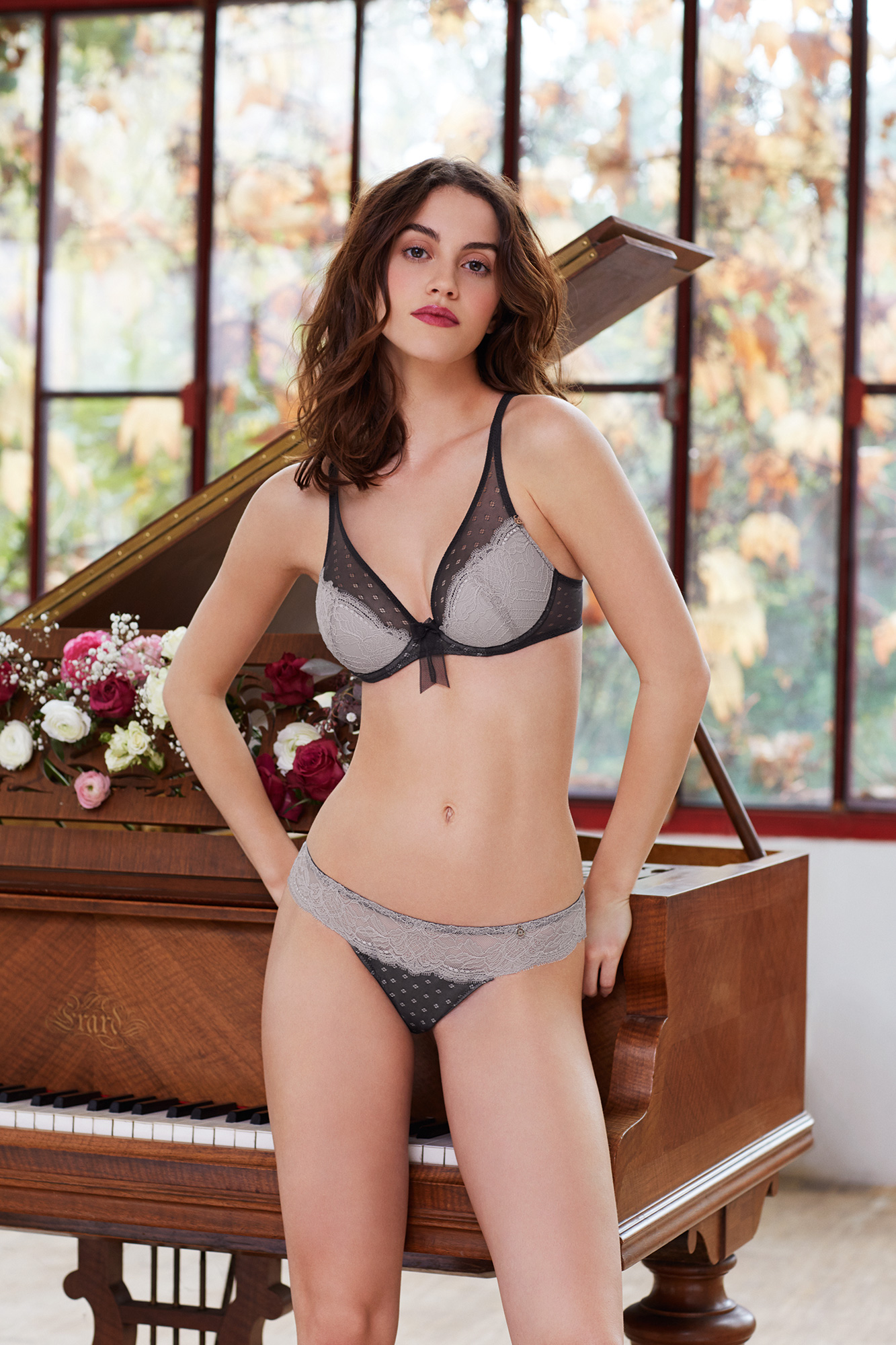 Alchimie in mineral grey: This fresh and glamorous two-color line combines a geometric net with floral Calais Leavers lace. A play of overlapping materials and colors (deep black on intense blue or grey on pastel grey) accentuates the effect of cut-outs which enhance the silhouette. Crisp details include a little tulle ribbon on the center front gore. Also available in austral bleu (pictured above).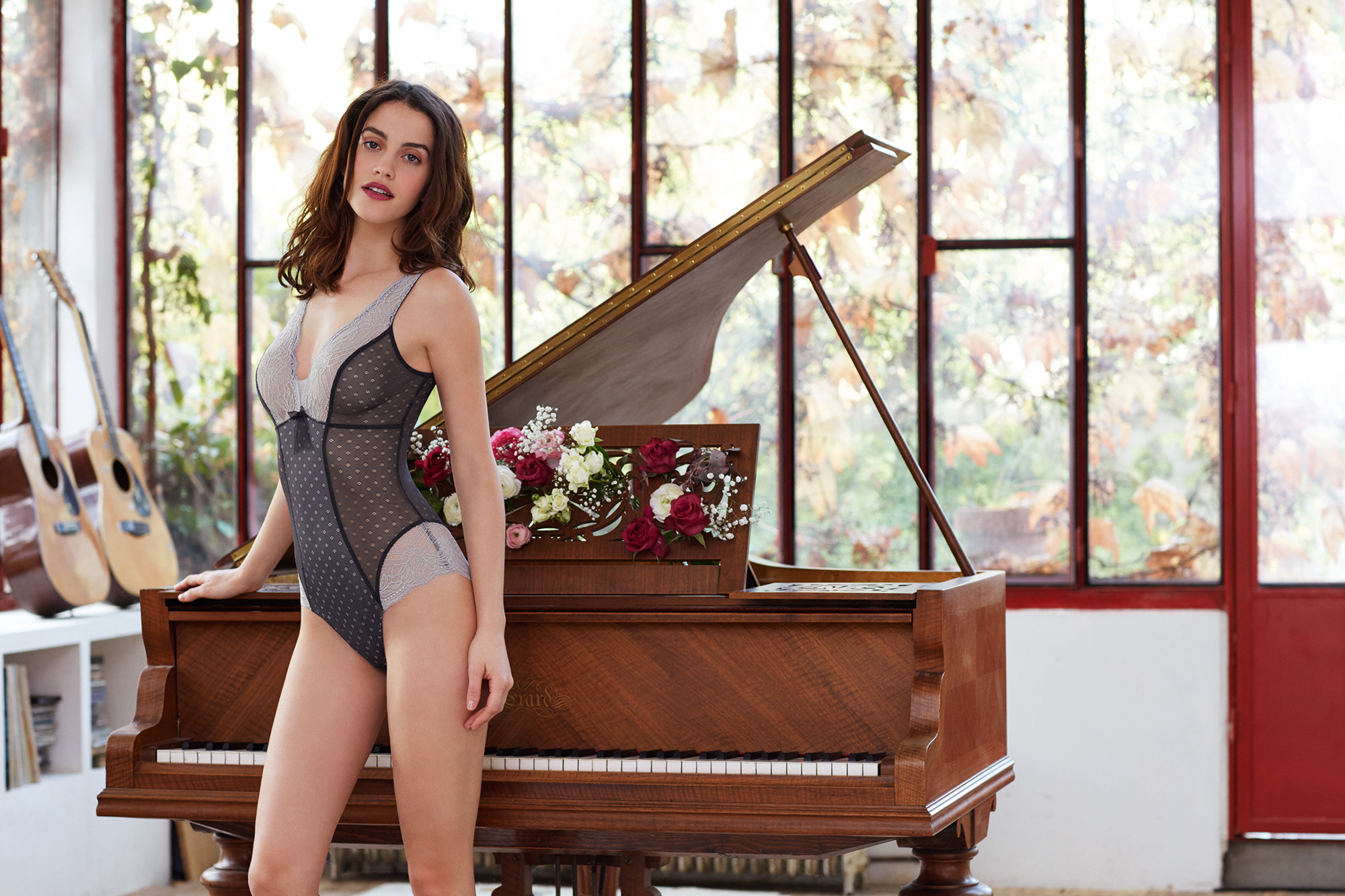 Alchimie body in mineral grey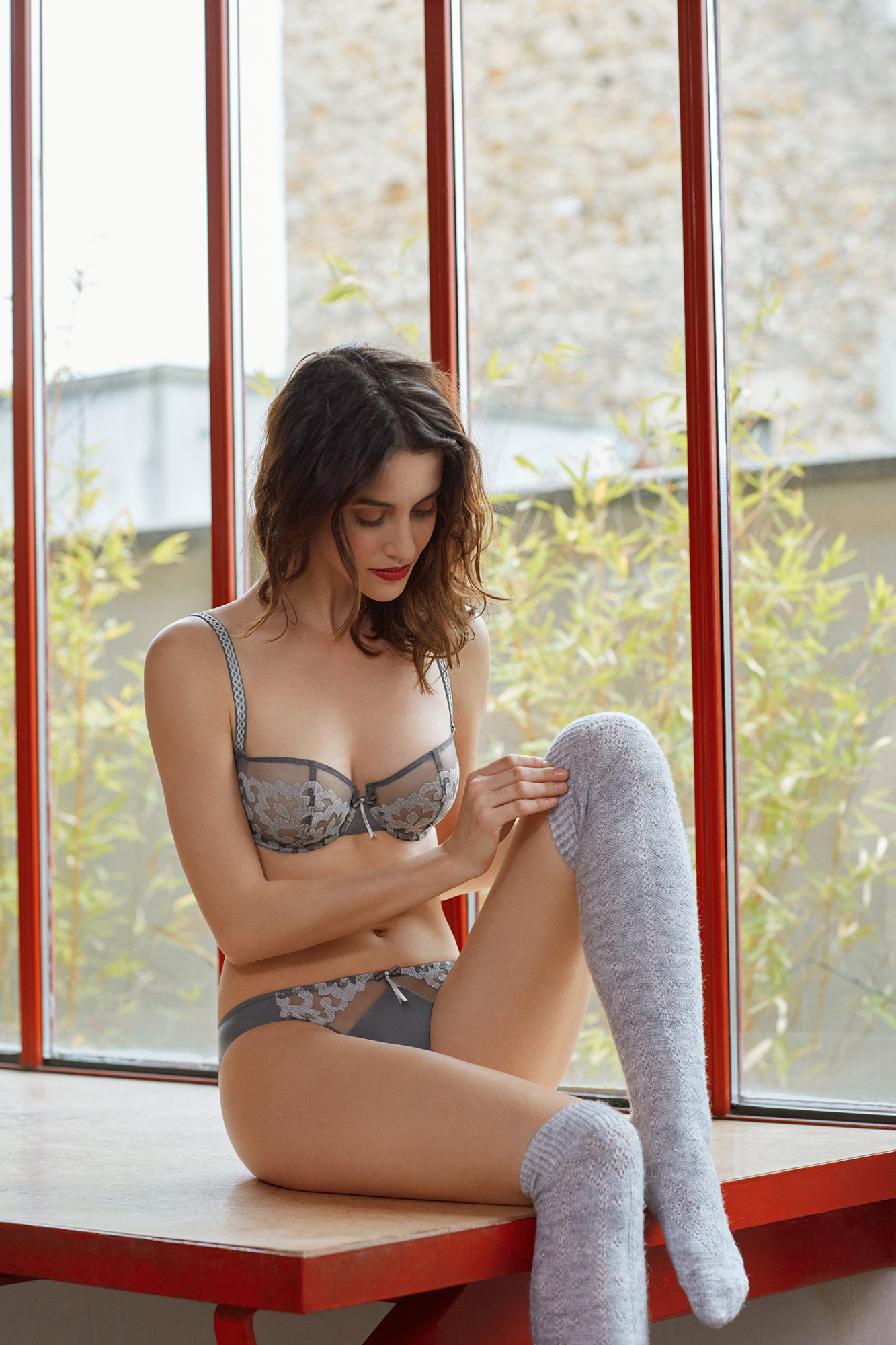 Azalee in eden grey: Symbol of love and happiness, the stylized and embroidered azalea flower comes to life in an art deco spirit. With indigo on black or light grey on anthracite, this graphic Swiss embroidery is a play on contrasts that's reflected in every detail, down to the bra straps. Clean-cut microfiber brings comfort to the femme fatale beauty of the refined Azalee. Also available in black.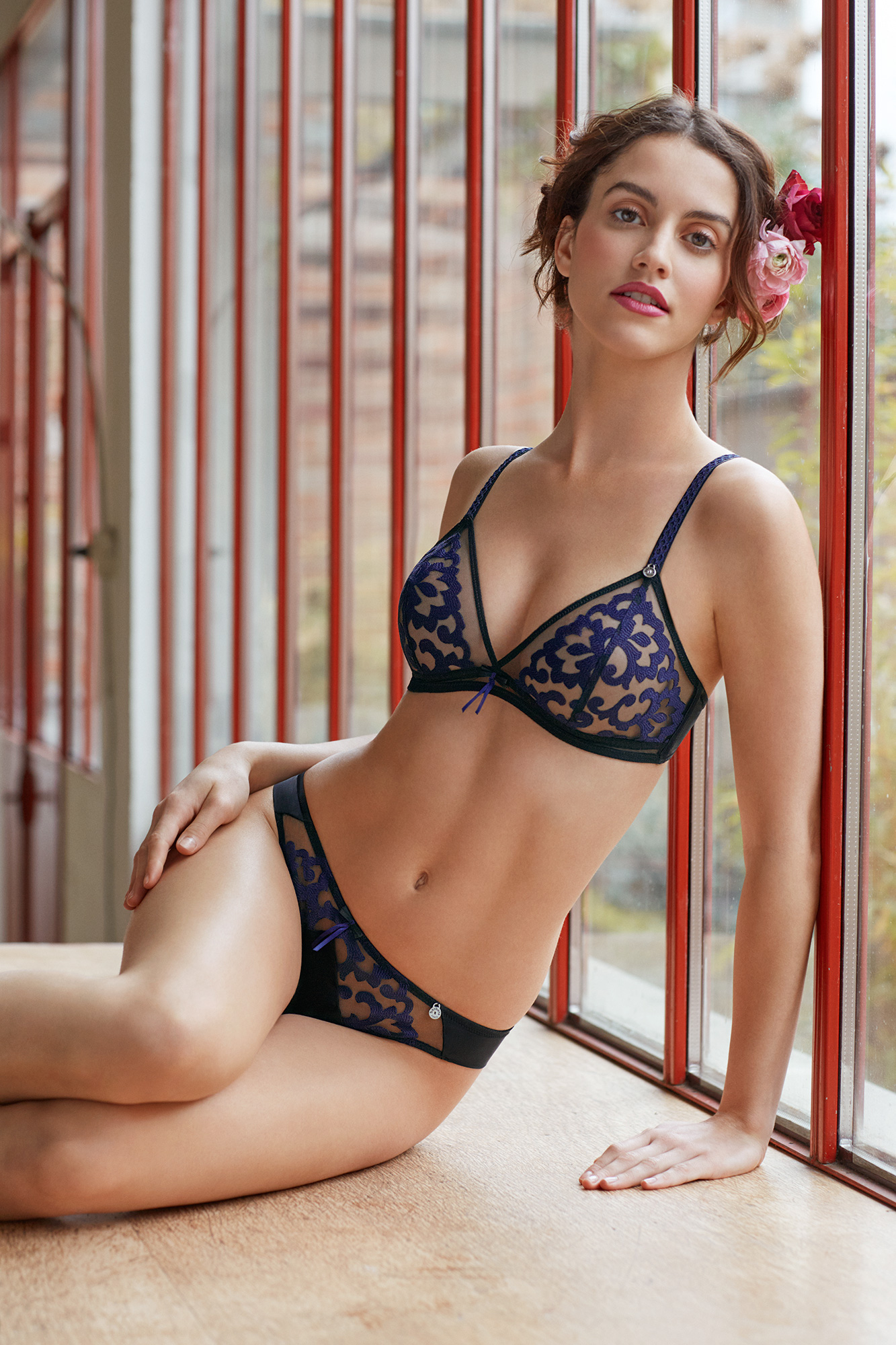 Azalee in black
Acacia in licorice: The softness and comfort of textronic lace coupled with a two-toned motif is the hallmark of the Acacia line. A floral motif is brought to life in one color and subtly contrasted by darker colors: Licorice, intense blue, camellia pink. Romanticism and elegance par excellence are the hallmark of this unmistakably Barbara line. Also available in camellia pink.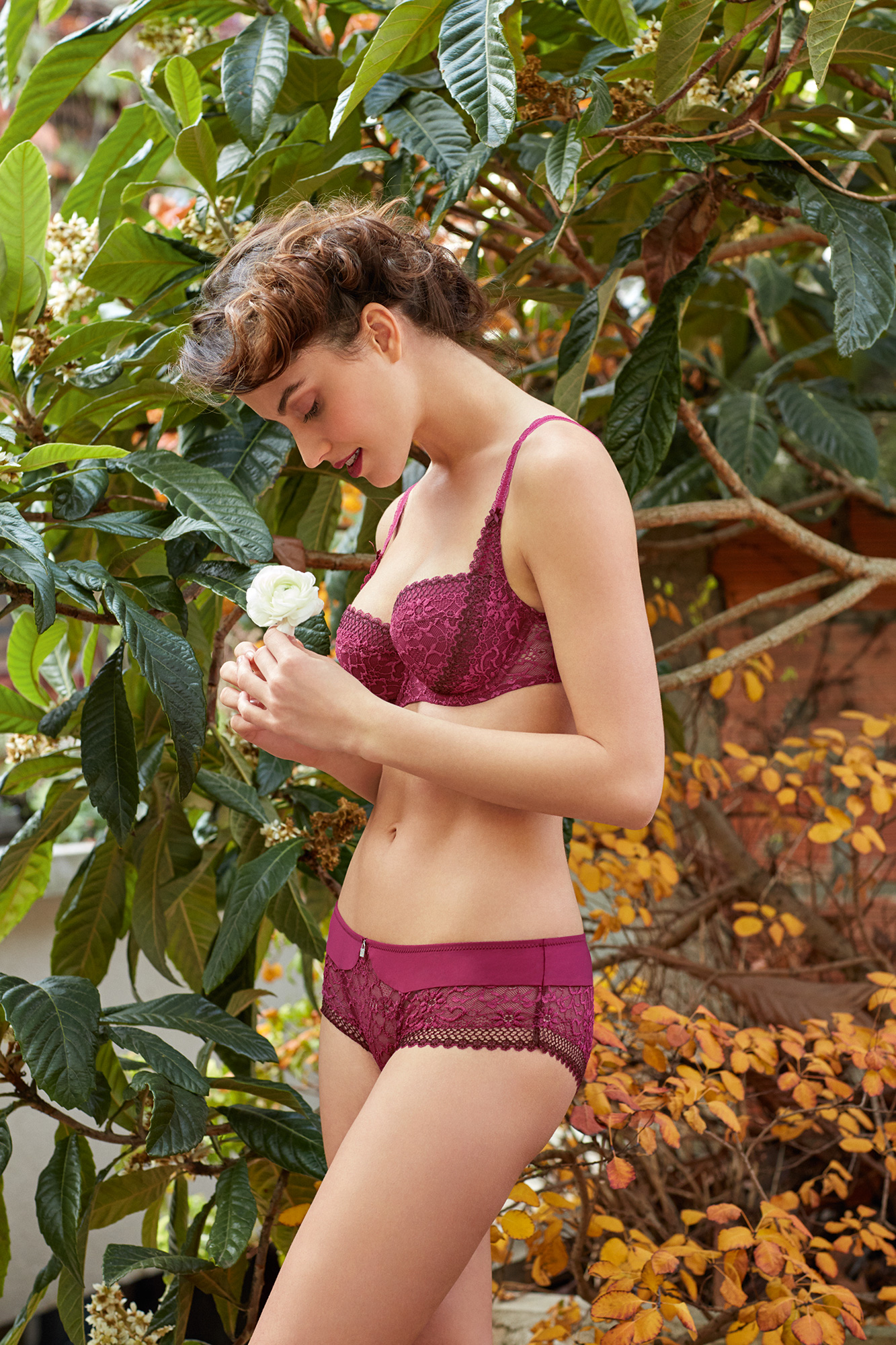 Acacia in camellia pink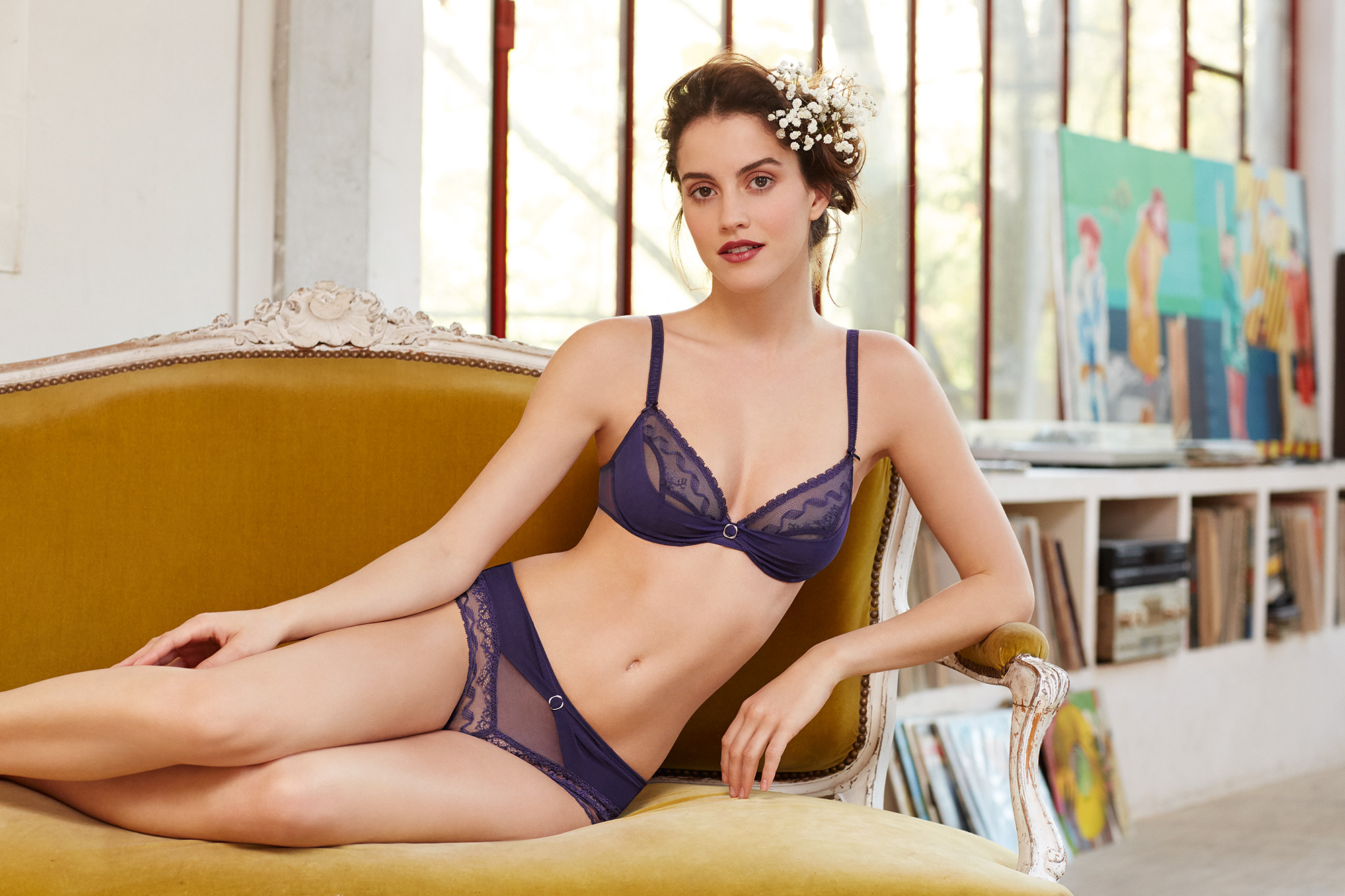 Ballerine in violet: The essence of delicateness and femininity, the Ballerine line combines Leavers lace from Calais with Italian tulle in sophisticated veil designs reminiscent of dancers' ribbons and tuttus. This ode to femininity is also available in black ribbon pink and luminous ivory.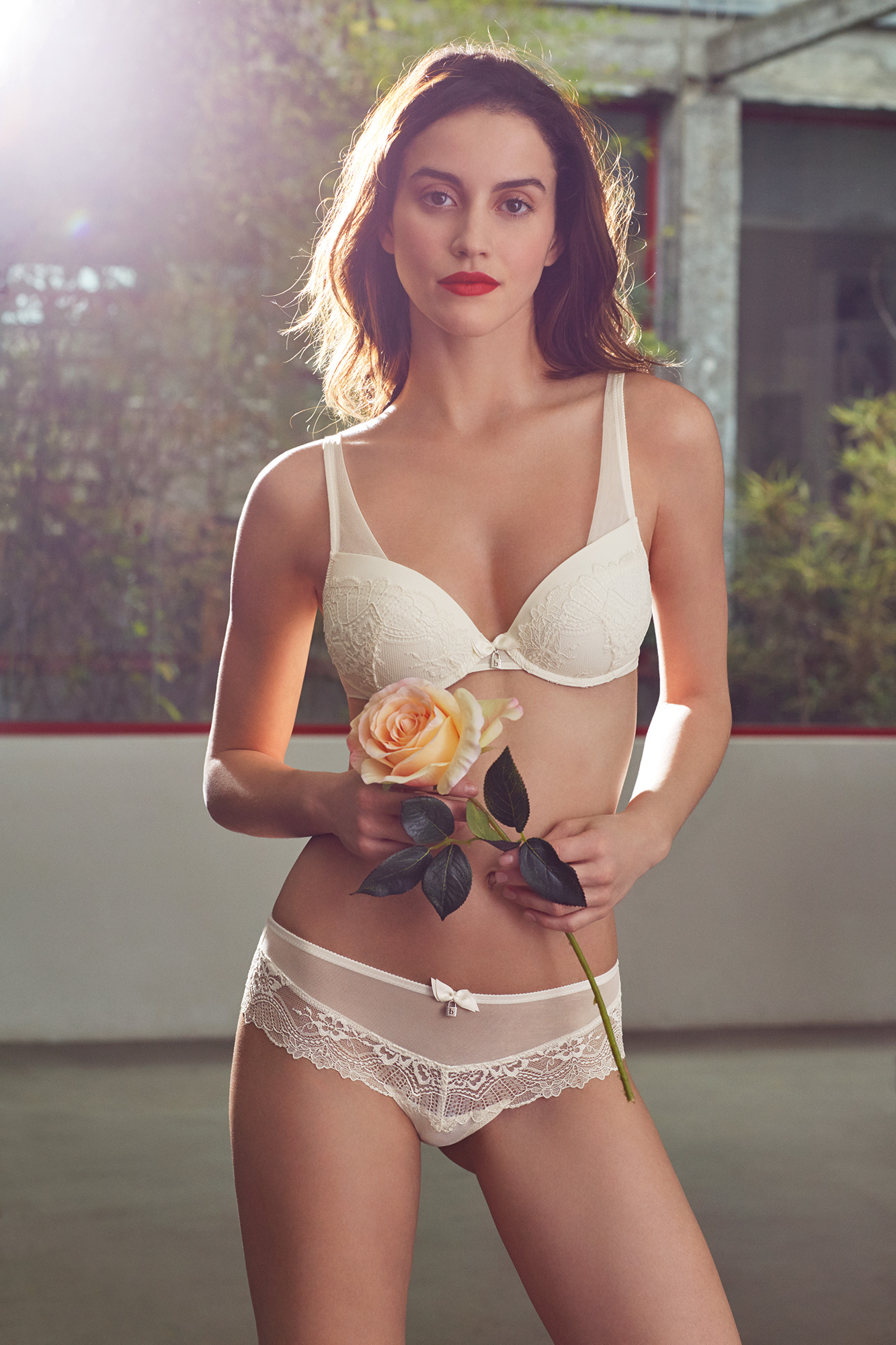 Nymphéa in ivory: Soft as snow, Nymphéa is a hymn to winter beauty in the finest Leavers lace from Calais juxtaposed with fluid crepe and lace. This dreamy, seductive line is a sensation of lightness, comfort and grace. Also available in Traviata red.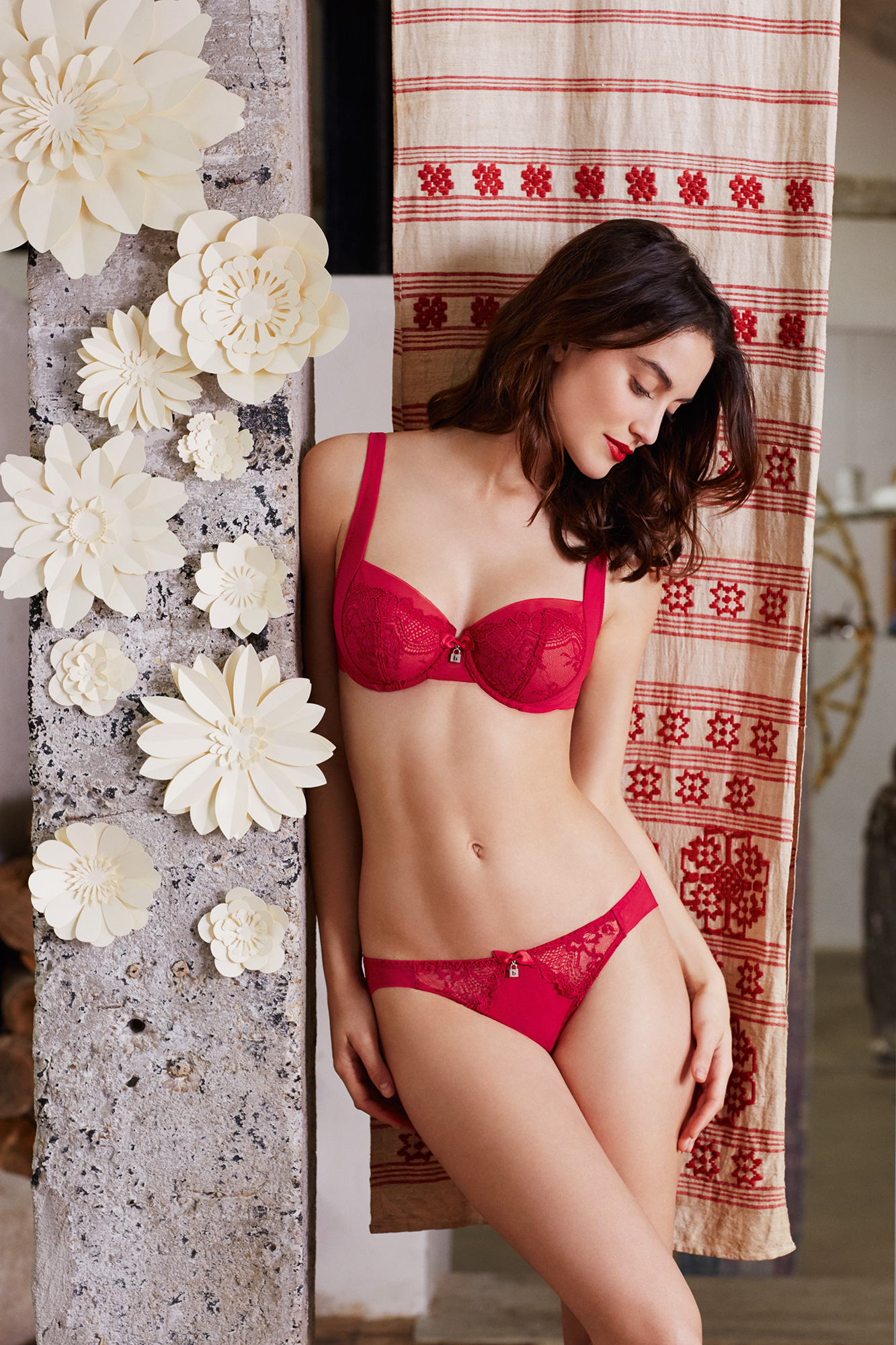 Nymphéa in Traviata red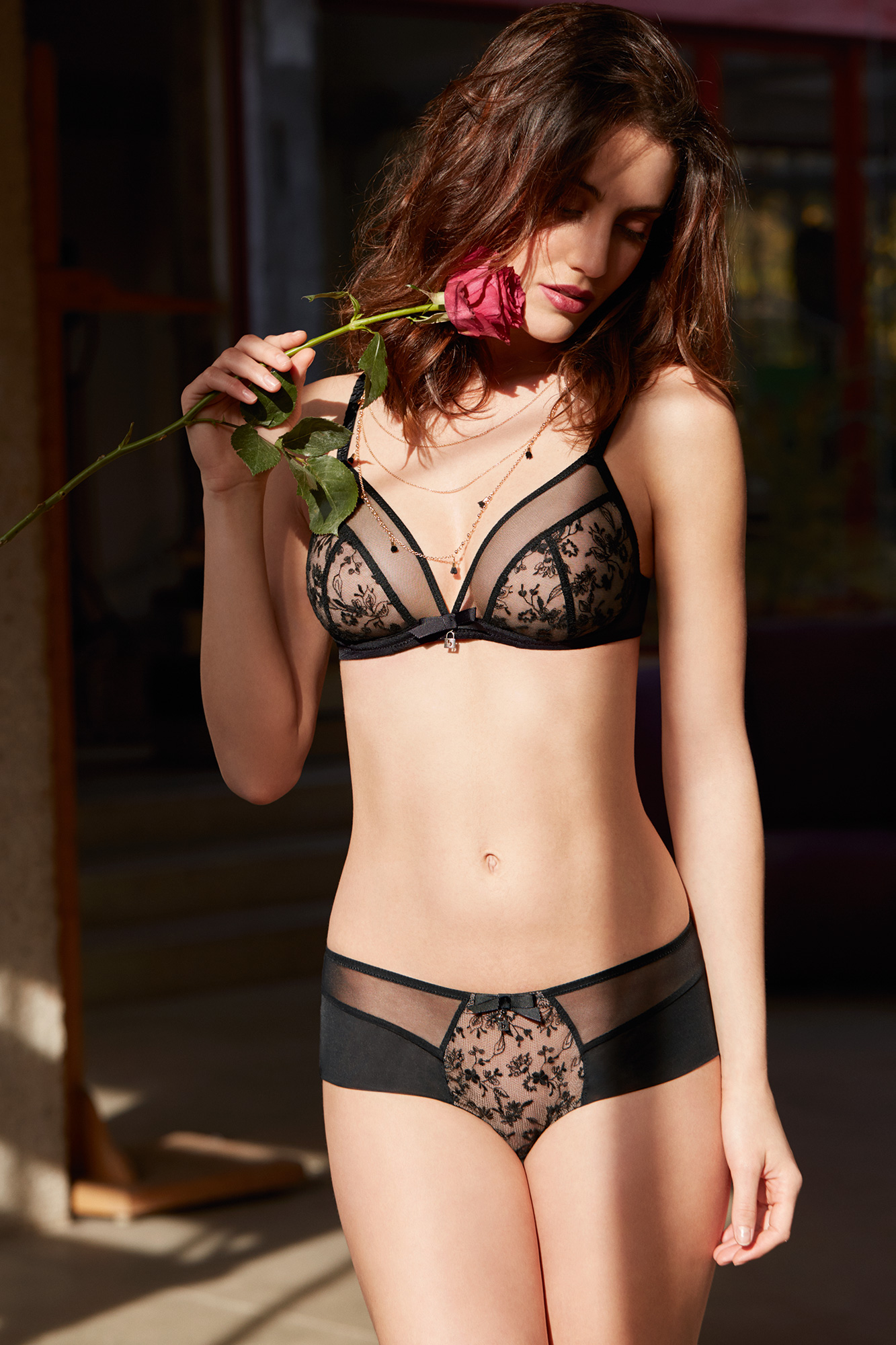 Fleurs sauvages (pictured here in black) is an ode to an old-fashioned floral universe with exquisite designs and finishings: The allure of wild flowers come alive in Swiss embroidery and stretch tulle cut-outs. Seductive, artful, refined, and infinitely comfortable. Also available in intoxicating blue.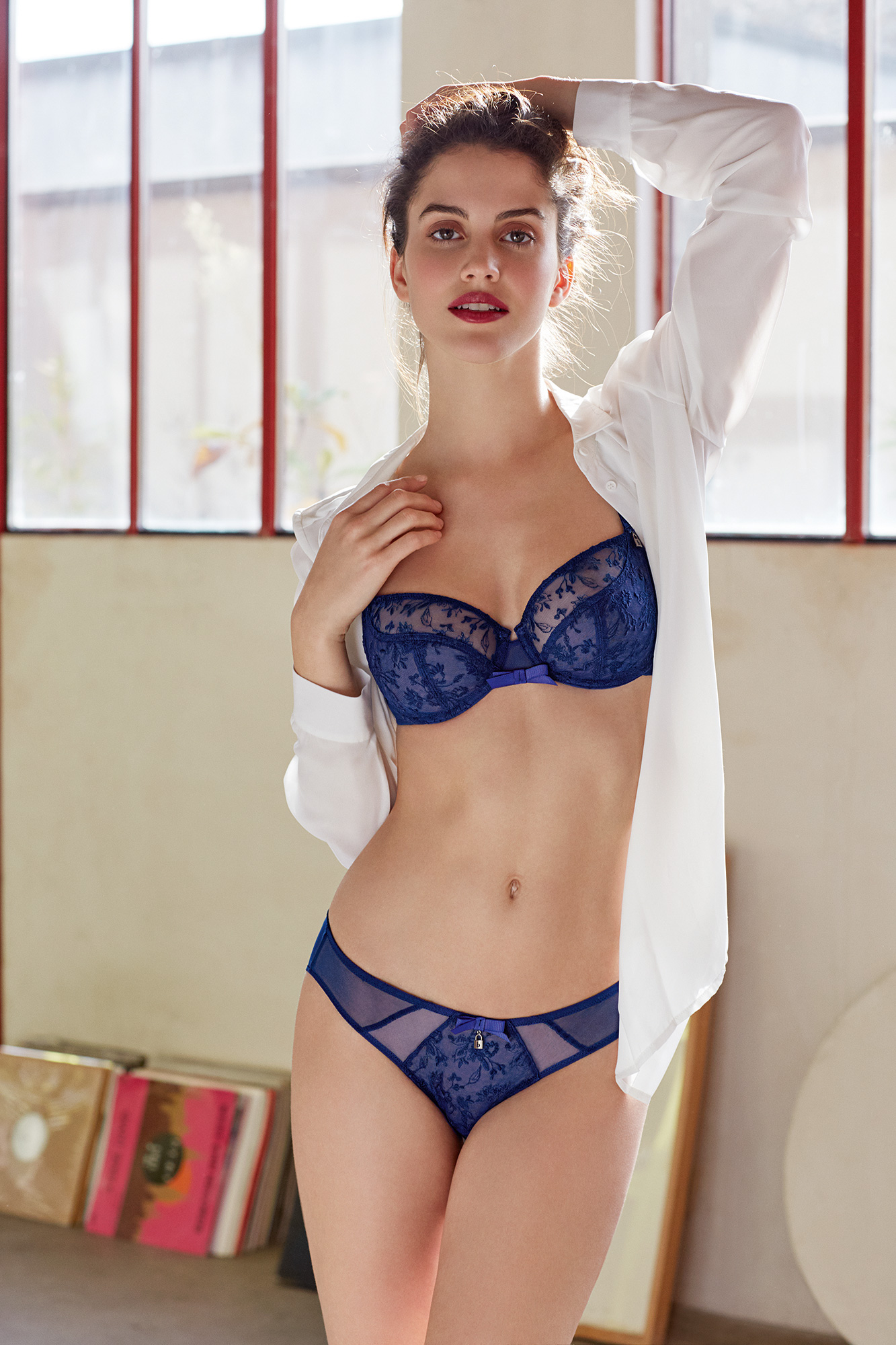 Fleurs sauvages in intoxicating blue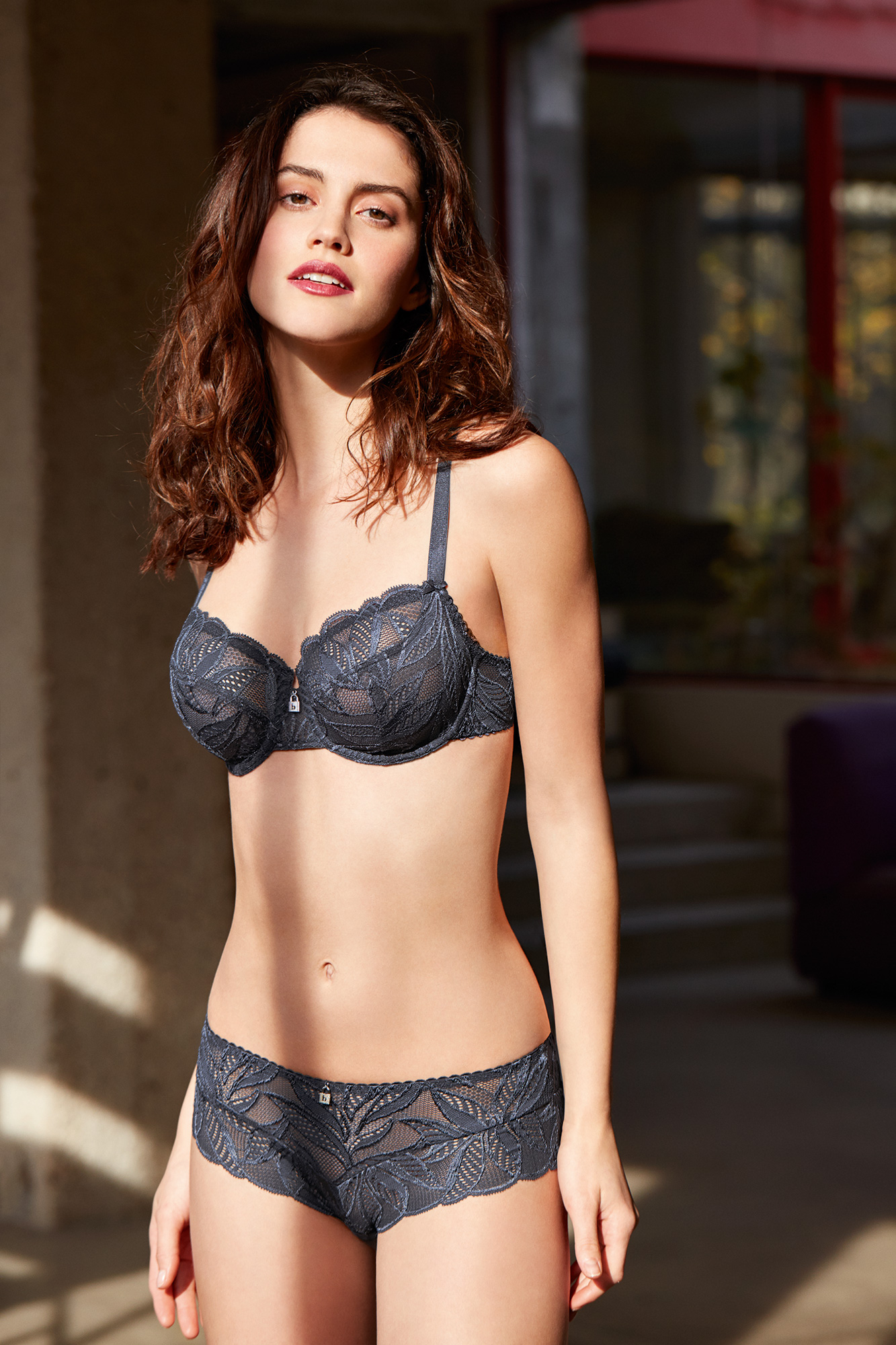 Kentia in metallic grey: This Barbara Lingerie modern flagship line in textronic French lace is a timeless classic. Elegant, comfortable, striking. Also available in nude, black and white.